How To Establish Lifestyle Brand Like BuyWOW?
January 16, 2021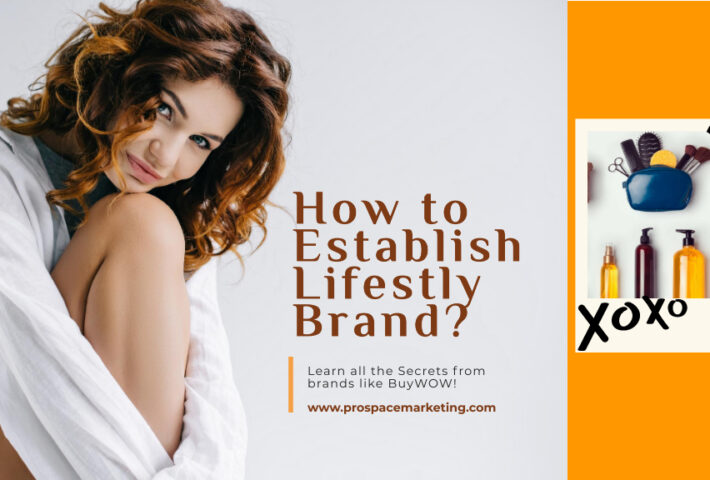 We often as a Brand Owner don't take interest in promoting Brand Name digitally or the Brand's website. Today we will discuss how you can attract opportunities that would leverage higher brand value by promoting it on digital platforms by overcoming traditional methods like buying ads on television or enrolling celebrities by paying expensive cheques. In 2021, promotions, ads and other such branding terms would be digital. The game of Internet marketing will be top notch in 2021 as in 2020 Internet users were to be 729 million with an increase of 62% as per Economic Times.
Biggest mistake that brands make in the lifestyle industry is that they neglect the website's user friendliness. Website for Lifestyle Industry or fashion industry is often neglected. Lifestyle Entrepreneurs don't understand what is the customer's purchase journey on their website looks like because they don't analyse the analytical funnels. This goes by installing analytical softwares, if you like Google you can use Google's Analytics or other avaliable marketing analytics like hubspot, etc.
Well a normal website built on WordPress along with woocommerce integration can be good enough for establishing a brand that sales products like hell just as Buywow does. We did a quick analysis of buywow website and found that it is built with woocommerce integration. The overall process of purchasing on their was quite easy and simple to use though there is no fancy options available like Amazon of Flipkart. Though they are not utilizing organic SEO for their site but they are promoting their brand digitally utilising different marketing methods that we are about discuss. So, it is important to understand what kind of Internet marketing strategies would work for lifestyle industry in short term and long term. We recommend to all the brands that you need to focus on short term Internet marketing strategies and long term Internet marketing strategy.
If some of our readers might wonder why we are mentioning buywow so much is because it is a lifestyle brand that has website traffic of about 152k with 14.17% branded traffic. One thing that they are utilizing and if we don't mention it over here would be very unfair. They are using Google Ads by incorporating display ads strategy, search ads, remarketing ads along with Google partner ad placement.
What can a lifestyle or fashion brand do to establish themselve?
Lifestyle brands who are widely present in European market or American trying to enter the Asian Market with integrity of English Language along with highest audience needs to incorporate digital advertising strategies. These strategies should be involving Internet Influencers with positive image across various social media platforms. For this you need an digital media buying agency or digital marketing agency to bridge communications between influencers and your brand because it looks easy to get in touch with an influencer but working with them till the end is a long term process which needs lot of to-and-fro work. It is better to engage a third party media buying agencies.
As a brand you need to work with Youtubers, Instagram Creators, Fashion Bloggers with High Domain Authority blogging sites. Your digital agency needs to figure out relevant bloggers, Youtubers with high engagement ratio, Instagram content creators with social presence and value to purchase. Ensure methods opted by your digital marketing agency to measure engagement of content creators in their respective social platforms. If you plan to work with small scale content creators then you need to have a double check on their engagement ratio because there could be higher chance of manipulative engagement rates or it may not be.
What not to forget as A Lifestyle Brand?
Irrespective of working with content creator you need to focus on building traffic to your own website by creating guidelines of marketing and following Internet marketing SOPs. These SOPs must be followed by the Internet content creators while promoting your brands. These promotional sops include specific brand practices that are into utilization like MamaEarth. They often promote their brands as they recycle plastic more than they produce or on every purchase they plant a tree on customer's behalf.
Well it seems we discuss pretty much steps for brand success on a large scale market. Things you need to include along these is you should leverage marketing money on email marketing campaigns, customer segmentation, remarketing ad strategies, customer purchase intent and user friendliness, most importantly focus on technical seo. As your website tends to be lifestyle Ecommerce website there new products coming along and old products going out of stock you need to ensure there are no technical webpage errors like 404 errors or any other sort of issues.
To overcome or utilise all these Internet strategies you need to make sure you have a single Internet marketing agency which can provide you
Ecommerce technical seo
, GoogleAds (PPC Marketing), Facebook Remarketing Ads, Email Segmentation service and email automation.
Let's revise what all we need to in few points to increase lifestyle product sales just like Buywow.
Leverage insightful Internet media buying agency.
Ensure parameters to judge real-time engagement ratio of content creators or bloggers.
Utilize email segmentation of your existing customers.
Focus on building traffic on your own website and not on third-party websites like Amazon, ebay and others.

Indulge technical seo and keep enhancing customer purchase experience.

Use content creator's video as Ads on Google Ads or ppc campaigns for display ads.

Maintain SOPs guidelines for promotion.

Distribute marketing budgets for various Internet marketing strategies instead of thinking to higher celebs for television commercials which in long run would not allow your brand to sustain unless you are having big fat investors.
Let us know what are your take away from this article if you are a brand owner or someone who is looking forward to start their own lifestyle based Ecommerce business or is an owner of fashion brand. If you like this piece of content we would roll out more interesting success stories of fashion labels and lifestyle brands.
Note: This blog is intended for knowledge purpose, this doesn't harm or affect brands in any negative sense as per our co-science. If you request to modify the contents in this blog by sending us an email with proofs for denial and then our content quality team may consider to fact check things again.