Struggling with Your Business Hire a Digital Marketing Company Now
October 16, 2019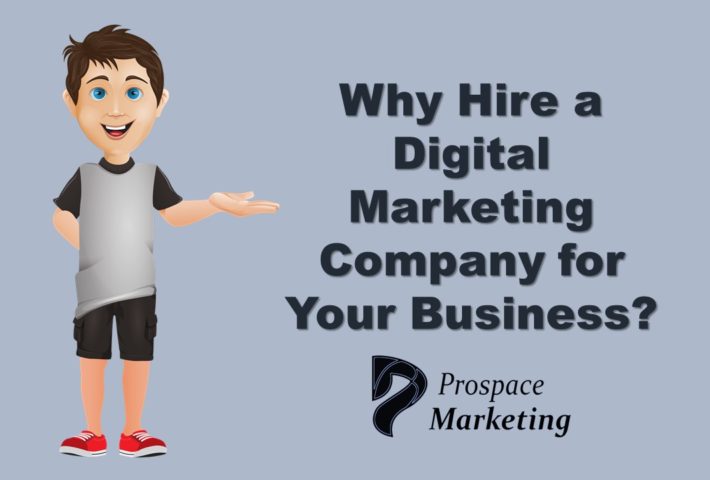 In today's world, there are three kinds of business. One, who wants to improve their sales, means the products or services they offer should get good sales. Second, they are new in the business and want to improve their branding and want to make themselves recognized by people. Such business wants to reach to their audience and tell them that they are here to provide products or services they are looking to buy. And the third ones are like, they are getting good sales and generating revenue but still, they want to get more audience and spread themselves to more people. 
Every business has some ups and downs in their life span and they need to rectify all the issues they get while promoting their brand or business. Now there are two types of marketing one is traditional marketing and the other is digital marketing. Today's topic is why a business should hire a Digital Marketing Company for their business promotion and help them to grow their business. If you take digital marketing services for your business, it could help you in so many ways. 
Digital Marketing Services includes SEO, PPC, Social Media Marketing, Branding, Video Promotion, Content Marketing and many more. So, all the techniques can help a business to improve their business presence as well as increase their sales. But for that, the business has to acquire digital marketing services. Now, we will discuss, what businesses should choose which services. 
New Businesses: 
When there is a new business getting started, no one knows about that and no one may get any product or services from it because the business is new and people don't trust new businesses. So, any new business can acquire Social Media Marketing Services. In SMM service, you will improve your business branding and also using Facebook and Instagram Advertisements, you can also get leads for your business. 
Social Media Services can help a business to reach its audiences, it can generate leads for that business as well. Such businesses can also start with paid campaigns with AdWords PPC. Here your digital marketing company will establish some specific campaigns that will help you to generate direct leads for your business. 
Many people start watching YouTube videos and they think Oh! it is so easy to run an ad on Google AdWords. So, they start ad campaigns themselves and once they lose their money, they run to digital marketing companies to get help for the campaigns that he started. There is always a process and a strategy to run an Ad Campaign just like to cook a food dish you follow certain processes. 
So, if you are starting a new business then you can start with these two services SMM and PPC. Once you start getting recognized to the people you can start content marketing because it is one of the best ways to tell about your product or services. 
Business Not Getting Sales:
There are many businesses that people know but they don't prefer to buy their products or services, why? because people don't trust on that business. So, for that, the business has to improve their trustworthiness for their audience. And SEO can build great trust for a business if it is done correctly. So, for such business, they can use SEO to improve their search presence and with that, they can use SMM for running Facebook and Instagram Ads so that you can start getting leads for your business. 
Any business needs to understand what its audience or customers want from them. It is very important to satisfy a user it is important to understand its emotion. You have to connect with your users to sell your services or products. When you start SEO for your business, you will gradually start getting the trust of your audience as when they search for something, your business website will start appearing for their queries. 
In the process of advertising, a Digital Marketer will start finding your preferred audience and then filter out those ads in different campaigns in different demographics like location, age, job titles, city, gender, health, etc. So, you can find the best audience to show ads for your business. This is a great process of getting quick leads for your business. 
Now, it depends on the budget factor as well. If the budget is good, you can choose paid marketing services (PPC) but if the budget is average then you can start with Social Media Marketing. In both scenarios, you will get leads and the SEO will create a good value of your business into the eyes of your desired audiences.
Successful Businesses:
When does a business become successful? When a business becomes a brand at that time we can say that the business is successful and also their revenue turnover. So, to become a brand, it is important to reach out to every corner of the world with your authority, kindness and the services or products. So, if a business is well established and getting enough sales, people know the business with its brand name then which digital marketing service should this businesses acquire?
Such kind of businesses can consider SEO. Now you may ask me why just SEO? Because successful businesses has already established itself upfront so first, SEO will make it more authoritative and bring more people to the business. Maybe this business website already are ranking for some keywords but picking up SEO will help the business to improve their search presence for other LSI (Latent Semantic Indexing) keywords. Because if you want to rank for a keyword like "buy sunglasses" there are so many keywords that are connected with these keywords. So, when you start your SEO campaign, in the beginning, all the related keywords will be covered so you can rank for all user queries. Also, for established businesses it is all about pride to be there on every search terms related to their business.
SEO puts your business at the top for online searches. There are many users who still don't click the advertisements they see on the search results, but, they tend to click on the results which are in the top 5 positions organically. So, the chances are huge when you start ranking on the top positions. Therefore, I recommend such businesses to start with Search Engine Optimization (SEO) as it will not cost you that much like the paid advertising and it will slowly put you at the top position for all the search engines. Because when you start ranking on one search engine, other search engines also start recognizing you as a brand and you will start getting visits from not only your location but from other locations as well.
So, that's it. If you fit in any of the above categories, you can choose the desired digital marketing service for your business. I'm sure this would help you to finalize, which service is the best for your business.